words in
purple
are words which YAMAPI-dear typed in english ^^
05.13.2009
PM8:07
こんばちわ!
yesterday my grandmother prepared chinese cold noodles for me.
it really was very tasty.
it's been a long time since i took a photo of it.
summer is approaching
to be able to eat this, is an enjoyment.
when i was staying in Chiba
i would still make windchimes~
why not, i shall make windchimes this year too.
good idea

summer
come quickly.
you
-tachi! let's make windchimes!
hungry for comments & they are love!
please write it in the cbox located at the sidebar <===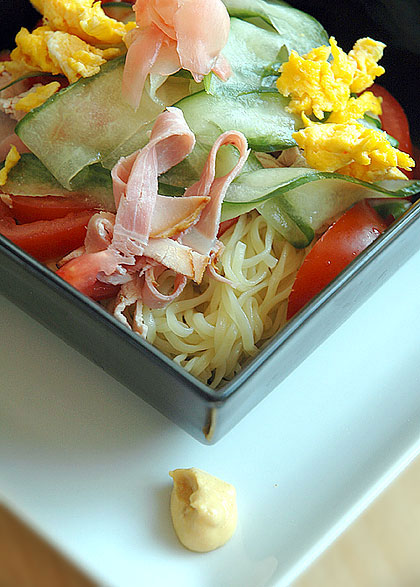 this is what yamapi mentioned in his nikki - the japan version Chinese cold noodle..
but they aren't the ones that yamapi's dearie grandmother cooked for him..(source: http://www.justhungry.com/2006/07/hiyashi_chuuka.html)
yamapi dearie grandmother have been showing up at his house, recently..
showing her support and love to her precious hot-cum-handsome-looking grandson..
*aww~ so sweet~*
in fact, yamapi-dear deserve to be loved and cared by everyone who adores or

him..
agree?!?
credit to watchful21 and baidu

this is the actual pic that pi-dear took for his nikki!!
yummy-loving-homemade-cold noodle