04.01.2009
AM11:10
こんばちわ!
i wrote my nikki yesterday
but it seems like i forgot to send it out
i'm sorry
yesterday's entry is about the 「day before's」 non-stop conversation
i talked about all the things which i've been considering about recently
then it's morning
en route shun kun came!
it was so reminiscing, コー君 (shoko kun) 「his tv character's name from Stand Up!」
it has been a long time i've seen him
he had chatted things about himself a lot
never did i expect to have chatted so much with toma and shun
i'm really very happy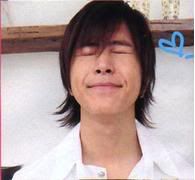 i have to be more 「serious」
i'm not mature enough
really, i feel as if i've became very useless
therefore, i shall work very hard to improve myself
more serious, to become someone who brings genki to everyone
to relook the reason why i'm in this industry
then give my best shot to continue it!
any comments...
please type it in my tagboard which is located way below the sidebar ===>
by the way girls, as all of you should have known by now..
NEWS participated in this Channel V Battle Pop Voting Contest..
and their worthy opponent is Super Junior..NEWS is the only JE group participating in this competition..

the winner for this poll will have their pv shown on Channel V for an hour..it seems like suju is leading NEWS by 600+ votes..

so i'm hoping that all of you will help NEWS to vote..
to allow them to know there's a large fan base supporting them..
and to help JE and JE boys to win an honor back..
please take note: you can only vote once..however, you can setup fake email accountsss to vote..fret not! as they will not send notification email on your votes to your personal email and so to your fake email..and help to spread this telegram around..
to register:
http://www.channelv.com
to vote:
http://www.channelv.com/rde/v/2163.htm


so ganbatte NEWS fans and NEWS!
ps: i've voted 65 votes today!!!